MAIN CHARACTERISTICS & ADVANTAGES
– Available in 10 colors (special colours upon request)
– Excellent colour eveness
– Colour fast
– Mixes and applies easily
– Consistent quality
– High durability
– Good water resistant
SURFACE PREPARATION
Surface must be clean, sound and dry. For old surfaces, ensure that loose or øaking materials and organic growth must be removed by scrapping or brushing with a stiff bristle. If the surface to be applied is very dry, it is recommended to spray water to wet the surface before applying DURACEM COLORED CEMENT to prevent dehydration.
PACKING AND STORAGE
Weight : 20KG & 25 kg/ bag
Shelf life : 9 months
Storage : Cool dry place
APPLICATION
Duracem Colored Cement can be applied as a thin screed or can be sprinkled on top of the newly casted concrete floor/ surface just before the surface is hardened. Consumption is approximately 2 kg/ sq m per mm thick of screeding.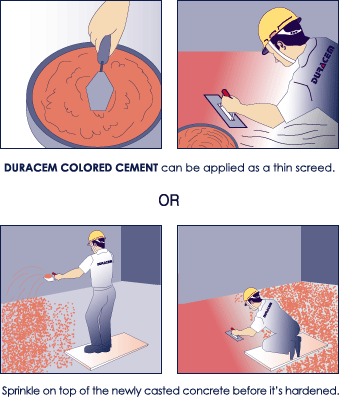 AVAILABLE COLORS

PRODUCT SPECIFICATION